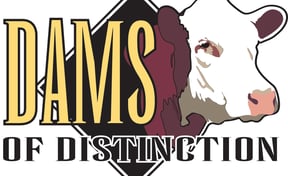 Whiskey Run Farms has produced several cows which have been named as Dams of Distinction by the American Hereford Association ('AHA"). AHA's Dams of Distinction program recognizes "superior cows in the breed" and the cattle producers who manage them.
To be honored as a Dam of Distinction, a cow must, among other things, have:
Produced at least three calves.

Initially calved at 30 months of age or less.

Had an interval between the first and second calves of no greater than 400 days. In addition, a 370-day calving interval must have been maintained after her second calf. The longer initial calving interval allows breeders to calve 2-year-old heifers prior to the mature cow herd.

Had weaning records submitted to the AHA Whole Herd Total Performance Records (TPR™) Program for every calf produced that was born before June 30, 2009.

Had a progeny average 205-day adjusted weaning weight ratio of at least 105.

According to AHA, a cow which gets the Dam of Distinction honor is "a cow that meets the highest standards of commercial cattle production." Only a few active cows are recognized.
Over the last three years Wisconsin has been recognized for producing from 41 to 54 such cows per year and we have been fortunate enough to have 3 or 4 such cows in each of those years. Since 2995 we have had seven different cows which received this honor. These are:
P41171396 WRF Vera in 2004, 2005, 2006 and 2007

P42121827 WRF Red Maggie in 2005 and2006

P42098966 WRF Proud Vaquero Lady in 2005, 2006 and 2007

P42322989 FHF 839 Prospectress J059 935 in 2006, 200, 2008 and 2009

P42413480 WRF La Arrow Prospectress in 2007 and 2009

P42511255 WRF Loretta SB 2008 and 2009

P42511295 WRF Jedi Jennie SB 2008 and 2009
Females attaining the Dam of Distinction status are recognized with "DOD" after their names when doing an animal or EPD inquiry on Hereford.org.